THIS PAGE IS DEDICATED TO ALL VETERANS, ESPECIALLY THE TROOPS 0F 1ST BAT. 9TH MARINES DELTA (1969-1970), ASSISTING IN MY DAD'S SAFE ARRIVAL HOME. MY DAD CAME BACK FROM NAM AND FOR THAT I AM FOREVER GRATEFUL.
HE HAS DEVELOPED INTO MY ROLL MODEL AND MOST IMPORTANT MY HERO!
WHEN I WAS YOUNG I DIDN'T KNOW OR UNDERSTAND WHAT VIETNAM WAS OR WHY MY DAD WAS THERE. I JUST KNEW HE WASN'T WITH MY BROTHER AND ME. MY MOM WOULD SIT IN FRONT OF THE TV AND LOOK FOR HIM HOPING NOT TO SEE HIM.
WELL POPS YOU DESERVE SO MUCH FOR WHAT YOU DID AND I HOPE THIS LITTLE PART CAN BRING YOU THE HAPPINESS AND JOY THAT I WAS BLESSED WITH UPON YOUR RETURN.
The thing that most people donít understand about Vietnam is that whether you were in country or home waiting for the door to open and reveal your loved one. We all where affected by Vietnam, now it became a part of our life's. I was about 4 years old when the door opened for my family. To me I saw my dad but it has taken years to understand what nam did to him and me. As I write these words I can close my eyes and feel the pain that he and his brothers endured. How can people be so ignorant to see all the negative things that nam gave them. Why canít people look at this man and say, thank you!
Thank you for doing what I could not.
Thank you for giving me the chance to enjoy my freedom.
Thank you for you gave of yourself more than I could.
Thank you for doing a job that you never even new how to do.
Thank you for you are my heroís!
Vietnam will live inside me till the day I die and I know it will live through my childrenís eyes. The brothers my Dad lost in nam will never be forgotten because my tears will always carry them whether happy or sad, I cry with my Dadís brothers and the one gift I will always cherish, that most can not, is I will cry with my dad! For that I thank you all!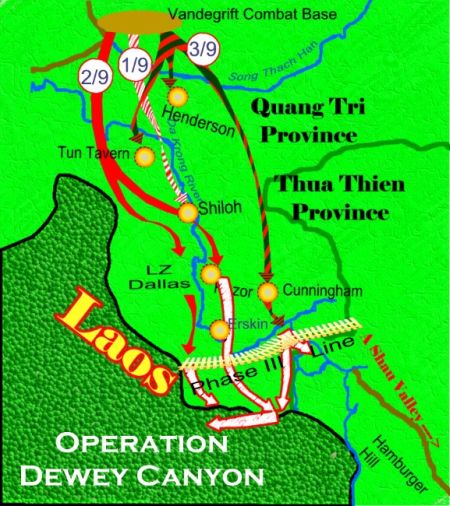 Here is a Link To Operation Dewey Canyon 1/22/69 written by:
C. Douglas Sterner.
My dad was there